« View all news
Class 3 Parents Uplifted By Being Back on Campus
May 31 2021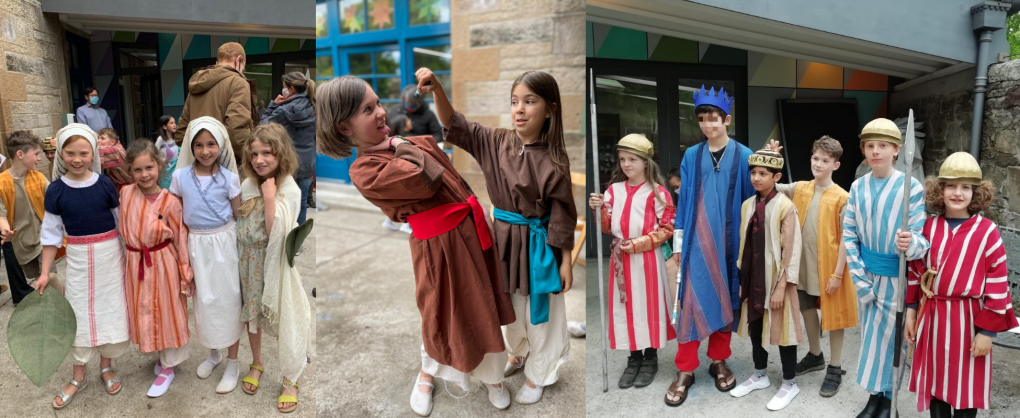 Family of Class 3 pupils enjoyed watching a live play 'Hadassah, Brave and Beautiful' on Wednesday and Thursday, marking the first school calendar event where a Class body of families have been invited back on to campus since March 2020.
It was such an uplifting experience to not only be on school grounds again (!) but to see the kids all working together with such obvious joy and care. And a great story with excellent performances."

Luke Norman, Class 3 father
Performed over two afternoons to allow for seated socially-distanced measures in the East Coach House courtyard, the Class were blessed with dry weather for the occasion. Parents wore masks within 2 meters of other households as well the play being performed outside in the school grounds once the school day had finished.
It was an incredible feeling to be able to come back onto the glorious school grounds again after 14 months to enjoy Class 3's play of Hadassah Brave and Beautiful. The children were fantastic and Mr Houldsworth did a wonderful job of bringing it all together whilst finding a safe and enjoyable way for the parents to be able to experience this beautiful event outdoors. We have definitely been missing the school community spirit and we are looking forward to more of these things beginning to happen again".

Harriet, Class 3 mother
Class 7 and Class 8 families will also be treated to an evening performance of their Class plays. Class 7 presents their play to socially distanced parents this evening; and to bubbled Classes 6 upwards tomorrow.
A theatrical production is a cornerstone part of Class 8's timetable, balancing the solo research of the Independent Project, with a socially-inclusive stage performance that brings the Class together. This year's pupils are performing Molliere's The Prodigious Snob. It will be performed to parents on the evening of Tuesday 8th and to Classes on Wednesday 9th during the school day.
It was such a joy to be back in school and to see Class 3 perform their play.

I really loved seeing the whole class interacting together again!"

Roshini & Vikas, Class 3 parents
These performances will be followed by Class 1's play on 10th June. Parents will be treated to the children's first ever drama performance, "The Shoes That Were Danced to Pieces." For some, this will be the first time they will venturing onto campus as a parent of the School. This will be followed by a performance to fellow Classes in the School Hall the next day.
For me it was quite emotional to be on the school ground again. It reminded me of all the pizzas the girls had on Thursdays and all the Friday markets. I can't wait to be part of their school life again."

Zsuzsi, mother of pupils in both Class 3 and Class 1
They will perform it a second time on the School stage to Classes 2 and 12 on Friday 11th. Each pupil has a Class 12 buddy assigned to them at the beginning of the year.
 It was great to see the children together in the school again, not just from outside of the gate, also very emotional. It was a memorable moment for us, something that we will remember for long. Mr Houldsworth is a great teacher and can be truly proud of his Class and the work they've been doing together."

Andrea, Class 3 parent
Photos (above) were all taken by parents after the play and shared with the School for the Tuesday Notice. All image permissions respected.
I'm so proud of the class for how they did in our little play.  It was great to see the parents' faces (at least, their eyes) in the audience too!"

Class 3 Teacher, Mr Houldsworth