Social Responsibility
We offer an important alternative to mainstream independent education in Scotland. Our aim is to develop responsible, free-thinking young people who can contribute to society with initiative and purpose.
We are a rare example of a school which emphasises sustainability and the belief in self reliance. Educating for creative adaptability and compassion that is firmly rooted in a perceptive understanding of oneself and the situations we encounter, our admissions procedure means we welcome pupils of all academic abilities and value them for what they bring to the school community.
Bursary & Family Support Fund
It has long been an ambition of the School that access to a Steiner education should not depend solely on the ability to pay fees. A Bursary Fund is therefore available to help fund a proportion of the fees for qualifying families.  The Trustees also set aside funds available to parents in the school experiencing temporary financial hardship which threatens the continuing education of their children. 5% of total fee income is allocated to the funds.
Helping the wider community
Many of our teenage pupils undertake the Bronze & Silver Duke of Edinburgh Award programme offered through the school, which incorporates up to twelve months of voluntary work. An active 'Climate Change' group of pupils and teachers meet every Monday. Many more undertake their own charitable efforts, sometimes individually, sometimes as a class, bringing their initiatives onto campus for the school community to support.
This positive difference to the wider community is continued on by our pupils long after they have left the school gates, from setting up a philanthropic foundation that has raised millions for charity to dedicating careers to addressing in a positive and sustainable way the 'super-complex' global issues that we are inheriting: from Global Warming to mass migrations and from the challenge of finding sustainable energy and food supplies to addressing escalating mental health issues.
As the only school in Scotland offering an education based upon the principles of the internationally recognised Steiner Waldorf curriculum, we are making an investment of effort now, through our holistic, broad education that teaches to the whole child at an age-appropriate time, so that young people will have the inner tools that they need to meet an ever increasing array of social, political, economic and natural challenges.
Below you can read some of the fruits of this education: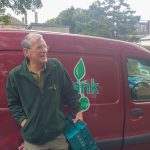 6th October, 2020
Scholar's 4th Year As Food Bank Volunteer, Collecting From his Former School
Retired former pupil, Bill Irving, aged 74, continues to give his time to Edinburgh North West Foodband for as long as his former School has been donating.  Bill has collected a total of 565kg of food from the Edinburgh Steiner School community at Michaelmas, over the last four years.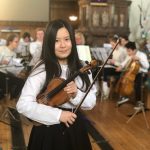 31st January, 2020
Edinburgh Steiner School sponsors pupils and alumni in extraordinary accomplishments.
Our aim is to develop responsible, free-thinking young people who can contribute to society with initiative and purpose. We are honoured to support pupils – both current and former, in these extraordinary endeavours.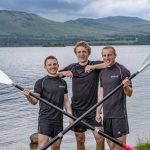 8th January, 2020
Trio of former pupils to become first three brothers, and youngest team, to row an Ocean for charity
Ewan, Jamie and Lachlan Maclean have only 800 miles of their 3,000 mile race to go, providing two children with clean drinking water with each mile they row through shark-invested waters, sleep deprivation and Atlantic storms.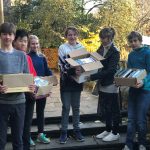 11th November, 2019
Class 9 Pupils Make Literary Donation to Homeless
Pupils from Class 9 handed over boxes and boxes of books on Friday to Streetreads, an Edinburgh-based charity providing a library to people living on the streets of the Capital.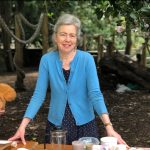 24th June, 2019
Parent tops up Bursary Fund by thousands, fundraising each week for 9 years
Children flock the table of pocket-money affordable treasures, a tray bake of more'ish brownies vanish in minutes, and a clothes rail of preloved clothes can be sifted through by both parents and pupils. This is the 'Bursary Stall' – a regular feature of the Friday Market for the last nine years, raising around £13,000. This week will be Ruth Callan's last time of manning the stall.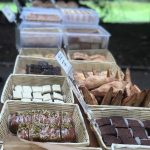 14th June, 2019
Milestone year for Garvald Bakery, supporting people with learning disabilities
The Friday Market is once again bustling with parents, teachers, and pupils chatting away in the long queue for the bakery. The Garvald stall is in its 10th year of setting out its various delights: organic breads, homemade donuts, lemon drizzle cake, vegan treats, warm sweet potato & carrot pasties and more; continuing its long-standing ties with the school.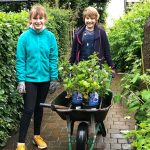 5th June, 2019
Pupils plant up community garden for dementia residents
Class 5 pupils tend to community gardens for local residents with dementia and physical support needs, as part of the school's gardening programme, now in its fifth year.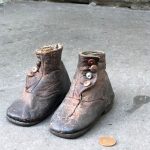 30th May, 2019
Bafta-nominated actor, producer & philanthropist receives honorary doctorate for his charity work
Edinburgh Steiner school is very proud of our former pupil and esteemed actor turned producer too, Sam Heughan. His first major acting role was quite possibly the infamous character of Bill Sykes on the school stage in 1993. Great to see his ongoing philanthropy recognized in this way.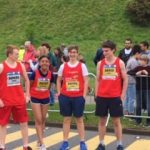 23rd May, 2019
Marathon for Medical Detection Dogs
Inspired by a pupil in the school with life-threatening allergies, Class 9 pupils Cenk, Saul, Harpreet and Noah completed the 5k run at the Edinburgh Marathon Festival on Saturday, raising £320 for Medical Detection Dogs. The whole of Class 9 will continue raising money for this charity with a sponsored walk up Ben Lomond on June 18th.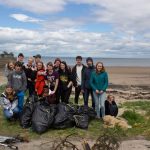 18th May, 2019
Beach Beautiful
Class 10 today took to the beach with bags of energy and came away with bags of rubbish. It was their mission to do a sponsored beach clean and we are pleased to say that it was an all-round success. They managed to fill 100 litres of rubbish from Seafield Beach, making a notable dent to the litter on our coastlines.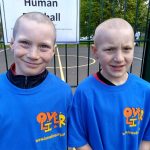 10th May, 2019
The Brave Shave for Cancer
Pupils Freddie and Arthur joined eight other boys aged between 7-14 years old and shaved off their hair to raise money for the charity, Love Oliver. The Class 2 twins and their friends smashed their target by 659%, raising £4,025 in honour of their friend who lost his life to a brain tumour in 2017.
Three Alumni Brothers Take On 'World's Toughest Row'
Euan, Jamie and Lachlan Maclean, who all attended the school, are embarking on one of the most demanding endurance events on the planet to raise £250k for their chosen charities. More people have been into space or climbed Mount Everest than have rowed across the Atlantic; yet this trio have the goal to become the first three brothers to row any ocean.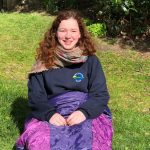 26th March, 2019
Silver Duke of Edinburgh pupil appealing for bags of love
Inez has been volunteering once a week at the St Catherine's Convent, preparing and serving food for the homeless. Seeing the need first-hand, this Class 12 pupil is asking for people to keep bringing in their spare sleeping bags to pass on to those living rough on the streets of Edinburgh.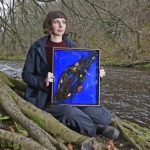 11th March, 2019
Polluted Art in Exhibition by Teacher & Pupil
Annie Lord, an Edinburgh Steiner School teacher, has been visually speaking out about the state of pollution in the local River Almond: creating a piece of art that incorporates items of real waste found in the river. It is now in exhibition to the public. She joins Class 12 pupil Adam, whose conservation volunteering on the Water of Leith seeped into his exam pieces, exhibited as part of last year's GCSE Art Exhibition.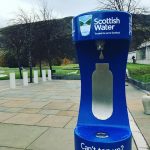 10th March, 2019
Prestigious recognition for Chief Scientist of Scottish Water
Professor Elise Cartmell, former pupil of '89, is one of 62 new Fellows appointed by the Royal Society of Edinburgh (RSE),  an Academy contributing to the social, cultural and economic wellbeing of Scotland through the advancement of learning and useful knowledge. Recently launching a campaign encouraging more people to drink tap water over the bottled stuff, her research is working towards ending fossil fuel consumption by 2020.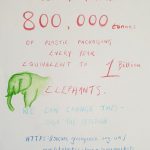 5th March, 2019
The Elephant In The Room: Climate Awareness 
A group of Upper School pupils and teachers have formed a group to discuss topical climate issues that affect the school, including exploring how the school can embrace solar energy and reduce the amount of plastic it uses. This initiative to become more climate literate and climate kind follows Class 12s appeal for supermarkets cut the 0.8 million tonnes of plastic packaging they generate year on year; equivalent to 1 billion elephants.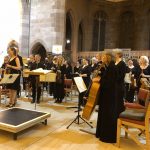 24th February, 2019
Award-winning orchestra draws pupils in
The beautiful music from the Meadows Chamber Orchestra's rehearsals ring out from our hall, which now has Edinburgh Steiner pupils among its group. It is just one example of how the school strives to open its facilities to the community, so as their usefulness is fully employed, local community projects are supported, and the opportunities for our pupils expanded.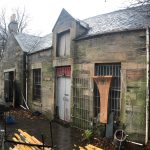 23rd January, 2019
Independent Schools' Economic Contribution to Edinburgh
Edinburgh Steiner School joins with the nine other independent schools in Edinburgh to mount a campaign to stop Edinburgh Council removing the 80% relief from business rates. Our economic contribution through jobs creation, saving the public purse thousands per pupil per year who would otherwise require a place in a state school, providing access to our facilities and playing an important role in maintaining cultural heritage through maintaining a number of listed buildings in Edinburgh all make the policy counter-productive; for it would mean an estimated 15% of parents would be forced to leave; the cost of which then falling on the Council.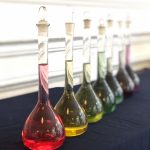 8th January, 2019
Number 34th
It is not often one is proud to come 34th in a list. However, in a recent breakdown of tuition fees for the 34 independent schools in Scotland by the The Evening News, we are happy with our position. Further still, when comparing the tuition fees for the last four years of education at Edinburgh Steiner School to the next lowest Edinburgh school on the list, their fees are 126% on ours (2018/19).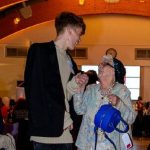 18th December, 2018
Charity Chic
Paul Reville-Auchie, now in his final year at Edinburgh Steiner School, not only put his modelling credentials to the test by strutting the catwalk, but played a huge part in organising the tenth Charity Chic event to raise funds for Stand Up To Cancer. The event raised £7,000.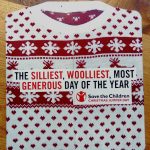 18th December, 2018
Christmas Jumper Day
At the end of last term, the school supported Save the Children by wearing our silliest jumpers and bringing in £1 for the privilege. Class 12 pupil Claire, who organised the charity event in the school, raised £140.53. Well done.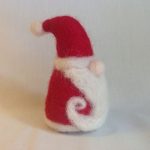 18th December, 2018
Boxes of Support For Homeless Children At Christmas
The School community once again gave an incredibly generous response to the Salvation Army's Christmas Present Appeal.  We were delighted to be able to give the Salvation Army shelter in Leith several bulging boxes of new playthings and clothes to be distributed to homeless children who would not otherwise wake up to a gift on the 25th December.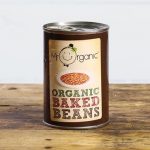 27th November, 2018
Feeding rumbling tummies: more than one in three foodbank users is a child
Pupils, parents and staff this Michaelmas donated a record quantity of food for the Edinburgh North West Foodbank. This is the third year we have collected essential food items and it was our largest collection to date – at 164.5kg. This will significantly help the Foodbank provide three days of nutritionally-balanced food for vulnerable families in need.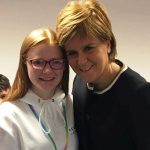 20th November, 2018
Raising a voice for adopted teenagers
Rebecca, Class 11, met the First Minister Nicola Sturgeon at the 'Adopted Voices' conference yesterday, which was held as part of the national initiative Year Of Young People. To mark Adoption Week Scotland (19th – 24th November), Rebecca ran a workshop, and presented to a full conference audience of carers, social workers and policy makers.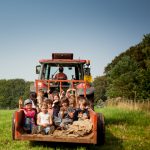 20th September, 2018
Farming in the Curriculum
"Every primary school in Britain should be twinned with a farm to give school children a clear understanding of how food is produced, says TV naturalist Chris Packham." Edinburgh Steiner pupils, from age 8, get their hands in soil on a local biodynamic farm; later spending two weeks ploughing fields, milking cows and harvesting crops.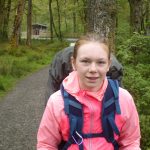 11th August, 2018
Walking all 96 miles of The West Highland Way for Maggie's
Lily-Rose (Class 7) and her dad walked The West Highland Way in memory of her best friend Joe, and raised an incredible £700 for Maggie's Edinburgh.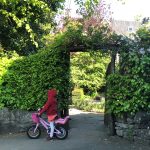 26th June, 2018
Bike Breakfast for Refugees 
Bike to your breakfast this Friday; and this year help us to raise funds for Bikes for Refugees, a charity proving 'new Scots' with a free way to travel to support social inclusion and integration.