« View all events
Kindergarten Spiral of Light
Sun November 27, 2022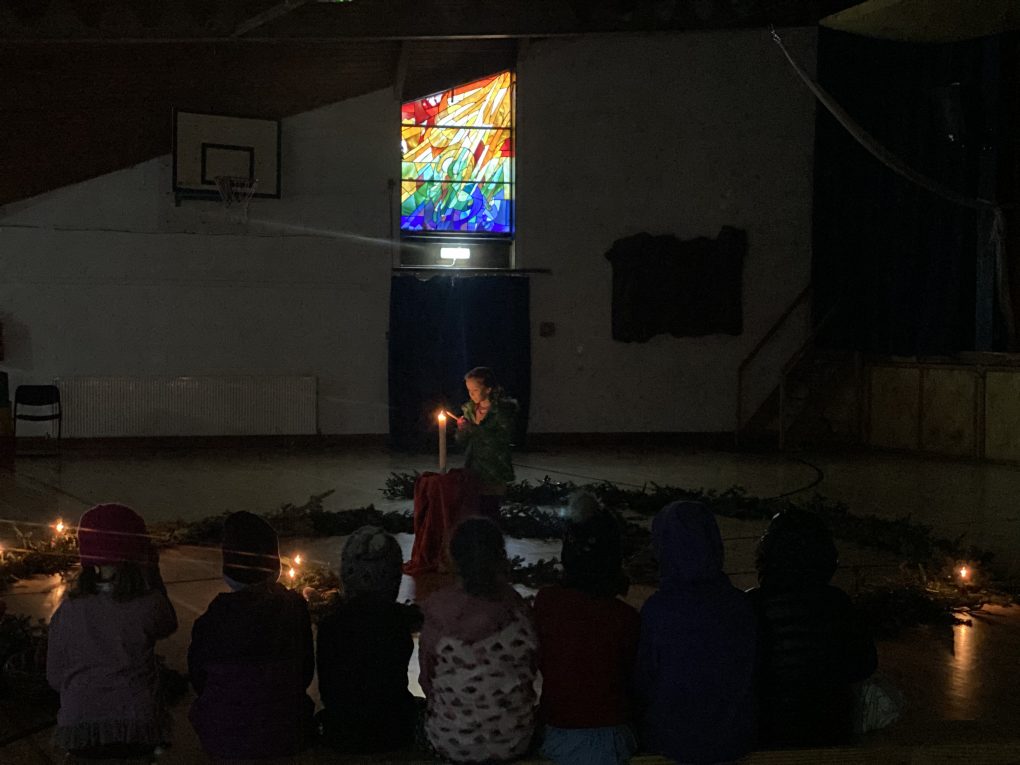 Kindergarten pupils make a special trip on to campus to gather in the School Hall on this Sunday, celebrating the annual Waldorf Advent Spiral.
The Spiral of Light is a simple celebration of the wonder of light in a time of darkness. It is a recognition of each child's unique individuality, done at this time of year in particular because this is the time when our individual light is deep within, waiting to be kindled.
The light of summer has gone away for us, just as it has for the plants and animals. Just as summer's light and autumn's harvest has left roots, seeds and bulbs lying rich with potential in the earth, so too are our individual lights lying within.
This magical event involves the children carrying their candle, held in an apple, round the spiral, and lighting the wick from the large candle of light in the middle, before placing it down somewhere of their choice in the spiralling evergreen boughs (a symbol of life everlasting) on the floor.
Each child journeys in and out again to the sounds of singing and a lyre – the instrument often accompanying the voice in the Early Years environment of the Steiner Waldorf Early Years.
Together, as human beings, we also prepare for this time of deep mid-winter, and as we find our way in this darkest of seasons, we continue to house and nurture our inner light and keep it aflame. Further, it is a celebration of each person finding their inner light and then sharing it with the whole group. By following the spiral we experience movement through the darkness toward the inner light. The light we then carry outwards helps illuminate our way and it lights the way for others.
This year, the event will be attended without parents. Early Years Leaders will meet the families in the gardens and take the procession of children to the School Hall. Pick up will be from the same gardens.
Cultivating Reverence In Youngest Pupils
The deepest darkness of the winter months in our School begins with the Lantern Walk, followed by the Advent Spiral. The children experience darkness and the return of the light as each individual candle is lit and the light fills the room with increasing brilliance.  The picture of the light of each of us in community is a perfect one. Gratitude, hope and confidence in the light's return is expressed quite literally.
Classes 1, 2 and 12 Advent Spiral falls on the following Monday morning.