Parent tops up Bursary Fund by thousands, fundraising each week for 9 years
Children flock the table of pocket-money affordable treasures, a tray bake of more'ish brownies vanish in minutes, and a clothes rail of preloved clothes can be sifted through by both parents and pupils. This is the 'Bursary Stall' – a regular feature of the Friday Market for the last nine years, raising around £13,000.
Parent Ruth Callan, who has volunteered her time week after week, shares: "It's amazing how much can come in from dribs and drabs once added up", continuing:
"I started the stall back in 2010 when we were at our wits' end as to how to manage the school fees for our four children. We received bursaries for them all, but this was not enough. I felt I had to do something, however tiny and absurd.
Within a few weeks, the tremendously kind, able and dynamic Carolyn Grohmann had asked me what I was up to. I told her and from this conversation was born the Blue Skies Thinking group. This awoke and mobilised talent within the school community (for example, that of David Cumming, school parent and top economist) and led to many good things.
Bursary provision has improved, but very, very sadly, there are still families deeply committed to Steiner education, who either cannot afford to send their children to the school in the first place or to keep them here for as long as they would like. The Blue Skies Group was probably the most important fruit of that first little gesture, but I continued to run the stall because the small amount of money it made (roughly £500 a term) still felt worth it and also because I loved the way it kept me in touch with everybody / knit into the school community.
I also love JUNK and enjoyed the children's enjoyment of the weird and wonderful trinkets which turned up on the stall. A steady stream of very good quality clothing was also invaluable for some of the less well off families – my own included!"
Ruth began this weekly stall when her youngest daughter was little, to raise awareness and top up the bursary fund that helps to pay a proportion of the fees for qualifying families. The funding for the Bursary and Hardship funds otherwise comes from a total of 6% the Trustees distribute from the school fees paid by other parents within the school community.
With her daughter, now class 12, just weeks away from graduating, following a journey through the school from Kindergarten, this Friday will be Ruth Callan's last time of being the face of the Bursary Stall to make room for pastures new (though she has already volunteered her time to the Christmas Market we hear). Thank you for all your efforts over these years Ruth – such a rich example of parent involvement in school life.
Ruth:  "A huge 'thank you' to everyone who has supported the stall over the years, whether by buying brownies, donating clothes / bric-a-brac, or shopping. I would like to end by giving you my brownie recipe. By the way, it has never been a secret! Good-bye, everybody and thank you. I hope to remain involved with the school in some form, but a new one. With warmest wishes, happy memories and deep gratitude". (M: 07873 544 778 / ruthmarycallan@gmailcom)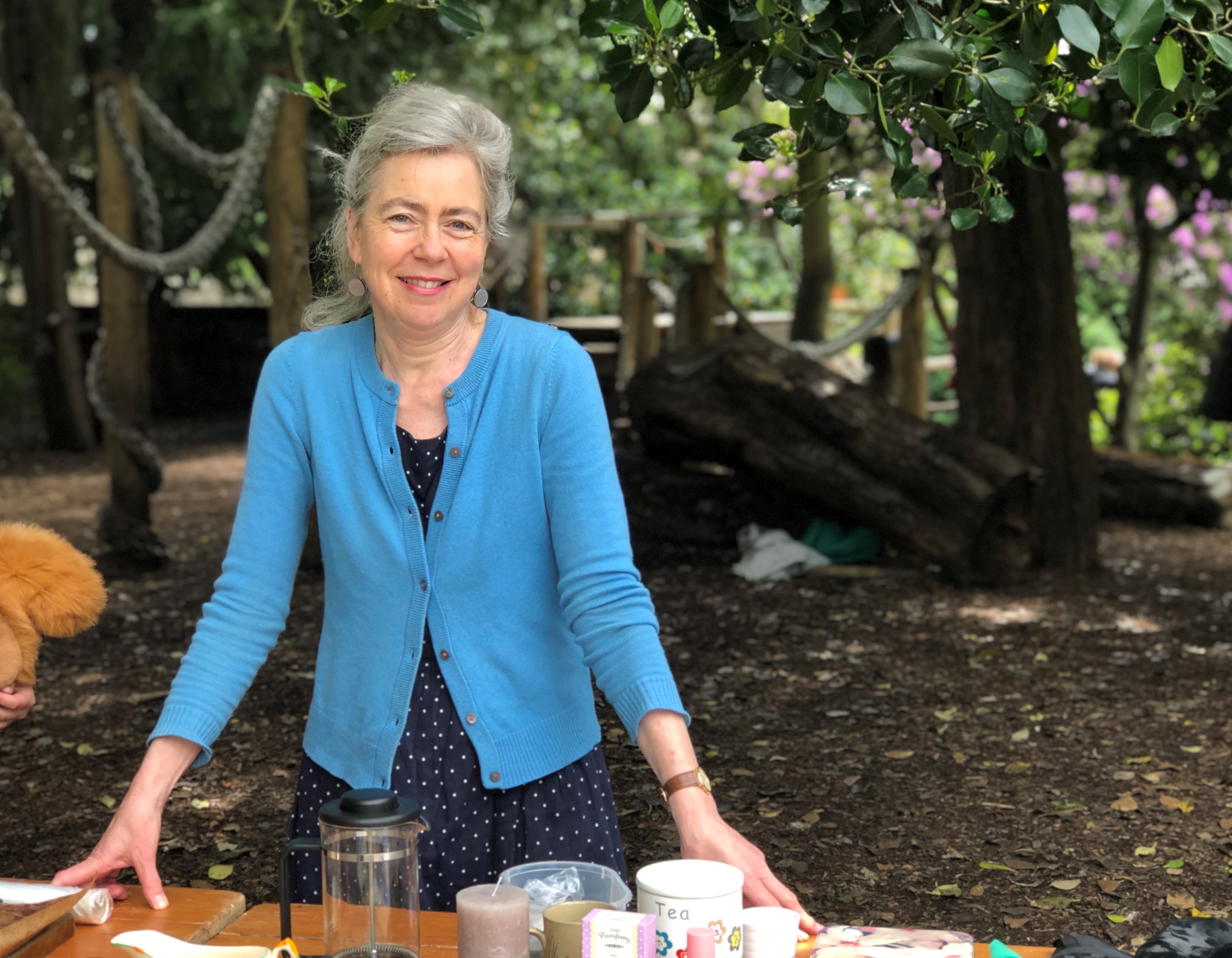 Bursary Fund Stall Brownies
Grease a tray measuring 20cm x 30cm. Preheat the oven to gas mark 4 / 180/160 C – depending on whether your oven is fan assisted or not.
1 cup = 250 ml
Ingredients
1 cup granulated sugar
1 cup DARK brown sugar
4 smallish / 3 properly large eggs
250g (i.e. a whole packet) of melted butter
200ml (i.e. less than a whole cup) of plain flour
200ml (i.e. less than a whole cup) of cocoa powder – NB unsweetened – I am not talking about drinking chocolate!
Method
Blend the sugars.
Stir in the eggs.
Stir in the melted butter.
Fold in the flour and cocoa.
Pour into the prepared tray and bake in the preheated oven for  30 mins – no longer.
When cool,cut into 24 squares.
(You can, of course, add walnuts / freeze dried raspberries etc when you fold in the flour and cocoa, if you wish.)
That's it  – kinderleicht – easy-peasy!