« View all news
Edinburgh Steiner helps acclaimed actor conquer insecurities
May 25 2020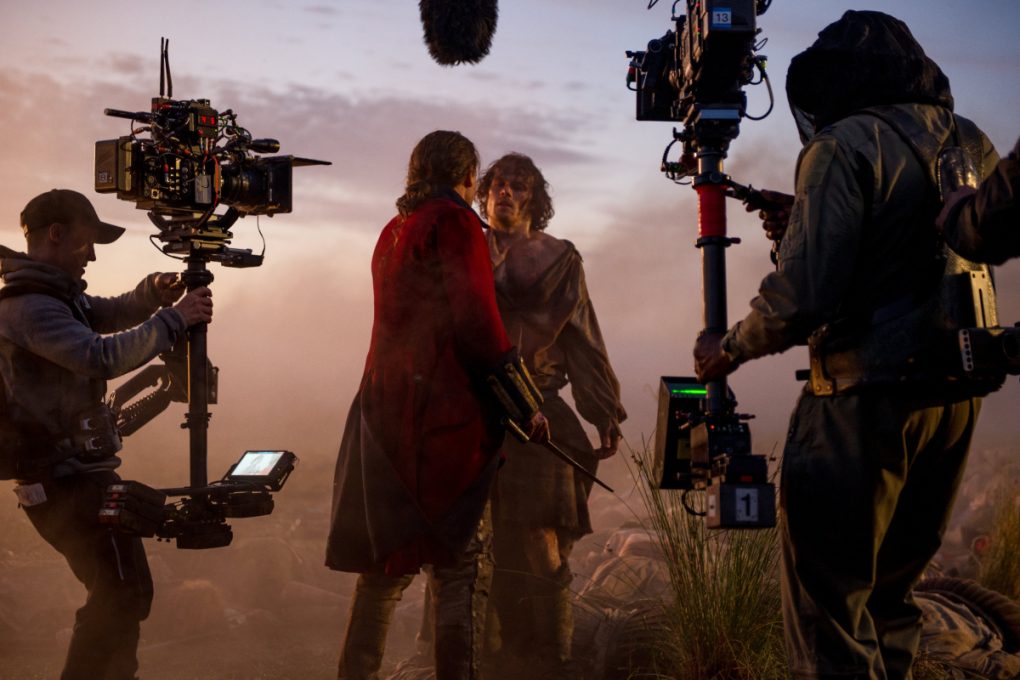 Watch the interview below:
National newspaper, The Times, recently published an article reporting how Edinburgh Steiner School provided a positive input into actor / producer Sam Heughan's life and wellbeing. Heughan generously gave his time to the School during the week of its 81st anniversary.
Speaking over Zoom from Hawaii, as he self-isolated following a suspected 3-month covid-related illness, Heughan told Chair of College, Nick Brett:
To be honest, acting was all about that, about confidence. I was probably not the most confident, or at least I had loads of insecurities. And I think, in a way, stage and camera is about not being yourself, it's about escaping; and that's kind of why I enjoyed it, you could be someone else to hide behind this character, and for some reason I felt a lot of freedom in that you know.
Going into the final year of the Lower School, Sam joined Class 8, known as the 'transition year' between the equivalent of primary and secondary school.
I finished Gillespies P7. I was going to go to Gillespies senior school, and then we were very fortunate, we got an Assisted Place.
The Conservative Scheme, which helped over 80,000 pupils between 1981 – 1997, was abolished by Tony Blair's Labour after they were elected in 1997, deeming it to be a waste of public money. Fortunately, those pupils already on an Assisted Place were allowed to complete their phase of education; a phase that for Heughan was instrumental in his future path into an acting career.  Heughan went on to successfully audition for a lead role in a show that has boosted the Scottish economy so measurably, it has been dubbed the 'Outlander effect'.
The structure of this transitional year has for decades incorporated all eight of the key recommendations that are only now being recognized as important elements of the curriculum if the education sector is to avoid  a deterioration in educational performance when pupils start in S1. A recent study commissioned by the Scottish government found the transition coincides with a drop in motivation, engagement, attitude and attendance, poorer wellbeing, social and emotional health, and an increase in depression and anxiety. (Read more about the seamless transition at Edinburgh Steiner School).
Looking back on it, it was really a good time, a really warm time. It felt like a very safe environment. I think there was a real bond formed, not only between our ourselves and the teachers; but also ourselves as students, you know. A number of classmates, we are still in touch. I don't really get to see them that much, because I am busy. But there is definitely this network.
A theatrical production is a cornerstone part of Class 8's timetable, balancing the solo research of the Integrated Education Project, with a socially-inclusive stage performance that brings the class together. It was this Class 8 play that gave Heughan his first foray into acting, playing the infamous character of Bill Sykes in the school's production of Oliver! 
Following their 6-week exchange with a Waldorf school in Salzburg, Heughan and his classmates moved on together into the Upper School. At a time where most young people become specialised as a result of their exam choices, pupils at Edinburgh Steiner School continue to study a broad spectrum of disciplines through the continuation of the Main Lesson Programme, taught each morning to the whole class. As a result, irrespective of whether pupils veer towards the arts or the sciences in their exam choices, they continue to receive a valuable grounding across all subjects, whilst a class cohesion is maintained.
Their school careers, spanning up to 15 years with their peers, culminates in the  important pedagogical theater piece: the Class 12 play. It's playing the main character in this production – Moliere's The Prodigious Snob –that Sam identifies being the experience that led him to follow a career path into acting and the moment he thought to himself, that he truly enjoyed what he was doing.
Heughan is currently writing a book on his relationship with Scotland, presenting and producing his own show Clan Lands with co-star Graham McTavish (due to be aired later this year), founding My Peak Challenge, and working on multi-award winning series Outlander.
It's basically my account of my relationship with Scotland, memories, anecdotes, but also acting in Outlander, and then this new TV show. So it really is a bit of everything. Sort of a bit like The Long Way Round Euan McGregor idea: going to different places and meeting different characters. To be honest the best part of it has been writing. Its not something I've ever really done. And I am really enjoying it.
Turning 40 just days before he spoke to his former school, where he attended from age 13 – 18, this milestone year is being marked with being on the Emmy award ballot for his character Jamie Fraser in Outlander. Reminiscing on his previous nomination for an Olivier award for most promising performer in 2003 for his role in Outlying Islands, a play directed by David Greig that premiered at the Traverse Theatre in Edinburgh, Heughan said:
I went down to the awards ceremony in my kilt, drinking free champagne and it was all fantastic. But then that night, got changed in the Victoria Bus Station toilets. Got the bus back to Scotland and went straight from the bus station back that day and did a full day at [Royal Conservatoire of Scotland]. It was really the two sides of it.
After several parts on stage, in TV series and in film, Heughan has now become the custodian of Diana Gabbaldon's Highland warrior, Jamie Fraser. Heughan took on the character who was younger than him (23) in 2014. Now in its 5th Season (fourth on terrestrial Channel 4), his character is a whole decade older than him.  Contracted for at least a further two seasons, Heughan hints he may have another ten years left in him: 'The show will end possibly when Jamie is 60'.
Filming for Season 6 was due to start this month, but has had to be postponed due to the coronavirus crisis; however Outlander, which depicts the Jacobite rising in Scotland, has already been a six year project for the 'Scot-ish' actor that has become 'part of my history'. It turns out that off-set he is part of an altogether different clan, namely one of at least four actors on the series with roots in the Steiner education. Remarkably, his on-screen co-star, Tobias Menzies, who plays both his rivals Jack Randall and Frank Randall, is also Steiner-educated in the UK. Graham McTavish, who plays Sam's on-screen uncle, Dougal MacKenzie, was also an Edinburgh Steiner parent during the filming of Outlander in Scotland, before  his children returned to their Waldorf school in New Zealand. "I am indeed still a proud Steiner parent" McTavish told the Edinburgh Steiner School today. Speaking about the Steiner Waldorf 'network' on Outlander, Heughan added:
[One actor, who'd like to remain private] brought it up a few times and asked me what I thought. And I remember very much in Season One having talks about it, and Tobias did as well. I think then there has been other actors that have come in that had different connections to Waldorf schools. I don't know, it's this hidden network.

Remembering his drama teacher, Peter Snow, who spent almost 30 years at the chalkface, Heughan said:

He honestly was such an amazing character. There was just something about him. I remember thinking 'I want to be like him'. You never knew what character you were going to get with him.
Speaking warmly about his formative years at Edinburgh Steiner School (formerly Rudolf Steiner School of Edinburgh), the interview with alumnus Sam Heughan includes 27-year-old (never-been-seen) footage of a teenage Sam on stage as the infamous Bill Sykes, as well as school photographs from 1993 – 1998. It will be released on Wednesday at 5pm on the School's YouTube, Facebook and Instagram pages.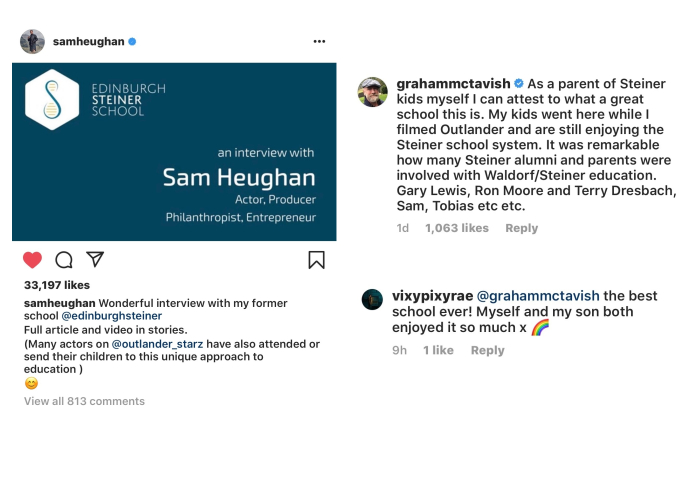 Read more Edinburgh Steiner News.