About Steiner Education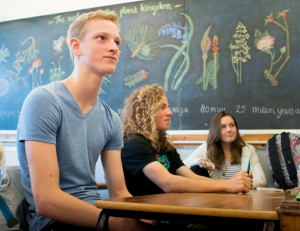 Steiner schools differ from other schools in both curriculum and approach.
Edinburgh Steiner School is independent, but doesn't select pupils on the basis of 'academic ability'. It is also non-hierarchical, in the sense that there is no 'head teacher' and 'heads of department'. Instead, all the teachers are responsible for managing the School and work collegially, reaching decisions by consensus.
The curriculum focuses on fostering creativity, initiative, social responsibility and moral awareness in children and young people.
From Kindergarten to the final year (Class 12), subject matter is linked to a child's developmental stage, which both inspires and motivates the pupils. All subjects are linked together and taught in a wider context interweaving academic, artistic and practical subjects.
This holistic approach to education enables pupils to develop a broader understanding of the world in which we live. The aim of developing imaginative, responsible and caring young people is deeply embedded in all subjects and in the way in which they are presented – aims that the Scottish Curriculum for Excellence is striving to achieve.
The Steiner Waldorf curriculu, which emphasises creative thinking, imagination and interdisciplinary learning is noted by educationalists, doctors, policy-makers and parents for its progressive, effective and practical contribution to cultural and social life. Becoming a Steiner teacher is therefore a rewarding and inspiring career choice.
While the principles of Steiner Waldorf education are common to all Steiner schools within the international network of over 1,100 schools in some eighty countries, each school and individual teacher has the freedom to interpret and develop the curriculum in unique ways. This is because the pedagogy is rooted in values and intentions: it is not a collection of syllabuses which list specific bullet points of knowledge.
Learn more about Steiner education, watch Steiner Waldorf films and read news articles.