Bikeability Levels 1 – 3
Classes 1 – 8 can now train for their Bikeability Levels 1 – 3 Certificates, beginning on campus and progressing to the local roads.
The Club teaches children the skills and confidence to cycle safely on roads with low to medium levels of traffic, and later complex, often busy roads and junctions.
Edinburgh Steiner School, situated on the National Cycle Route 75 along the Union Canal, connecting to Water of Leith Cycle Route and benefiting from the new Greenbank to the Meadows Quiet Route, has 4 cycle shelters on its 3-acre campus, holds Secondhand Bike Sales and hosts Bike To Breakfast events. Our School annually take part in Hands Up Scotland Survey.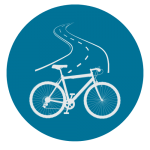 Classes 1 – 3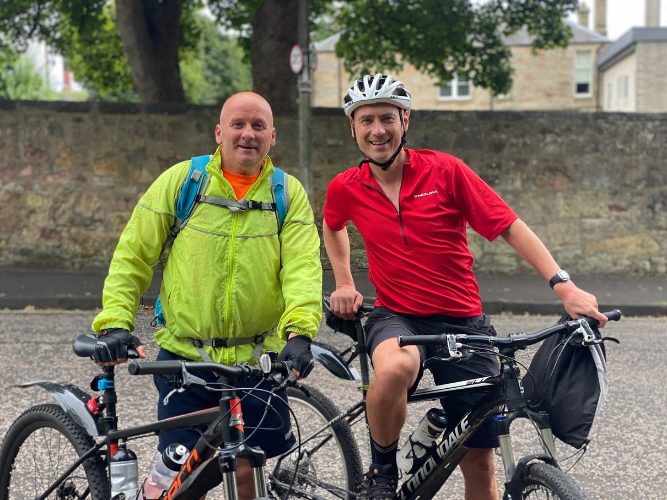 These Clubs are offered at cost, hiring two experienced PVG-approved coaches who have completed the Cycling Scotland Training Programme: Cycle Training Plus, so as to introduce a sustainable way of raising cycling skills in the school community. Ross Crook (right) and Scott Robertson (left) have been teaching cycling skills and running summer camps for more than eight years.
It is hoped they will increase the number of pupils cycling to and from school; aid in creating ESS community cycling days; as well as facilitate the introduction of 'bike buses' for the school runs in the future.
This Club will begin on campus on the tarmac; and progress to the surrounding roads when the children reach a proficient skill level and awareness. Pick up after the Club will be from the School gates, unless ESS Wraparound has been pre-booked (available until 5.30pm).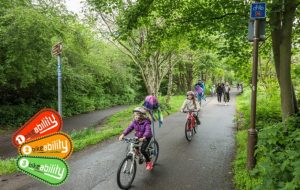 Bikeability Level 1 
Developes key cycling skills off-road, away from traffic. It aims to develop mastery in cycle handling in an off-road environment and prepare riders for cycling on the road. Riders must be able to pedal and glide to participate in Level 1.
Prepare themselves for a journey
Check the cycle is ready for a journey
Set off, pedal, slow down and stop
Pedal (including looking behind, cycling one handed, turning and controlling speed)
Bikeability Level 2 
Teaches children the skills and confidence to cycle safely on roads with low to medium levels of traffic.
Riders must have fully demonstrated Bikeability Level 1 National Standard assessment criteria before they start Bikeability Level 2 training. At Level 2 riders will:
Cycle safely and responsibly
Identify and respond to hazards
Start and stop on-road journeys
Maintain suitable riding positions
Share the road with others and communicate with other road users
Comply with signals, signs and road markings
Manage risk when cycling
Negotiate junctions (pass side roads, turn at T junctions, and crossroads and roundabouts if present).
Bikeability Level 3
Trains children to cycle in complex, often busy roads and junctions. It is delivered in groups of up to 3 so can be tailored to a riders individual needs. Level 3 riders will be able to:
Plan a journey
Plan to and ride assertively everywhere cycling is permitted
Maintain suitable riding positions
Cooperate with and respect other road users (including avoiding driver blind spots and riding with others)
Pass queuing traffic and use junctions controlled by traffic lights (if present)
Use cycle infrastructure and multi lane roads (if present)
Ride on roads with speeds above 30 mph (if present)
Bikeability begins at 1:45pm so as to allow 45 mins for lunch and play time after the end of the school day (and for the tarmac to be available). If you would like your child to remain on campus for lunch, this supervision can be added to your booking here: Classes 1 – 3 Bikeability Wraparound.